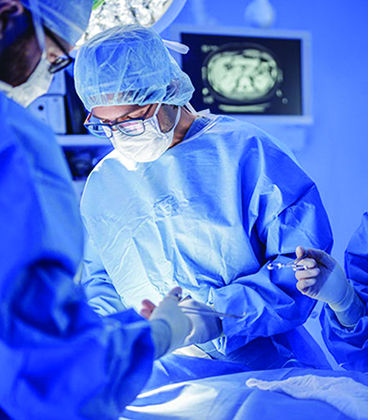 Equipped with an integrated surgical suite comprising of 3 general operation theatres, operation theatre for delivery of brachy therapy & a state-of-the-art CSSD. All modern HIPEC & PIPAC procedures are introduced for better treatment and therapy.
Surgery remains the primary treatment in a number of malignancies. Apart from curative removal of the tumour where possible, surgical expertise is often required for diagnosis, follow-up and symptom palliation. The surgical teams aspire to work with the mission of offering high quality evidence-based surgical services. The hospital boasts of an integrated surgical suite comprising of 3 Cancer operation theatres, 1 operation theatre for delivery of brachytherapy and a state-of-the-art CSSD. To facilitate high-volume complex cancer surgery and optimise ambient atmosphere, each theatre is fitted with equipment meeting contemporary standards. This is the 'Centre of Excellence' for 'Peritoneal Cancers' with well-equipped HIPEC and PIPAC Services. This institution is the first centre to perform the first PIPAC surgery in eastern and north India. This department runs fellowship programme in 'Surgical Oncology' with one candidate per session.
The key facilities available are-
Head Neck surgery

Breast Surgery ( One Stop Breast Clinic)

Hepato-Billiary and Pancreatic surgery

Upper Gastro-intestinal surgery

Colorectal Surgery

Maxillo Facial surgery

Gynae-Oncology

Bone & Soft Tissue Surgery

HIPEC/PIPAC surgery ( Centre of Excellence for Peritoneal cancers)
Breast Cancer Clinic
Our Breast Oncology Team deals with all kinds of breast surgeries, including radical resections, breast conservations, a variety of breast reconstructions as well as sentinel lymph node techniques. With breast cancer being the leading malignancy among women, chances are that you or someone you know and love can be diagnosed with this ailment. Choosing the right cancer centre from the start for your treatment can make a big difference.
Gastro-Intestinal Surgery
Gastrointestinal Oncology is a wellestablished subdivision of cancer care. Our specialists are some of the leadders in this -eld. This department deals with the most complex GI procedures starting from Diagnostic and therapeutic Endoscopy, ERCP, GI stenting to whipple's surgery, Cyto Reductive Surgery and HIPEC. This department is well equipped to perform complex colorectal & GI surgeries laparoscopically The Gastrointestinal cancers we treat include stomach cancer, anal cancer, bile duct cancer, colon cancer, esophageal cancer, gallbladder cancer, gastrointestinal carcinoid tumor, primary liver cancer, pancreatic islet cell cancer, small intestine cancer, stomach/gastric cancer, stomach carcinoid tumor, cholangiocarcinoma, duodenal cancer, pancreatic cancer, rectal cancer, gastroesophageal (GE) junction cancer, islet cell cancer, liver (hepatoma) cancer, psuedomyxomaperitonei and small bowel cancer.
Head & Neck Surgery
Head and Neck Cancer is a common form of cancer in India and other developing countries. More than one lakh Head and Neck Cancer cases are diagnosed in India, every year. Head and neck cancer types include ear cancers, nose cancers, throat cancers, tongue cancers, thyroid cancer, oral cancers as well as cancer of the larynx. Typically, the cells lining these organs experience a cancerous growth and aect the entire organ. Most head and neck cancers are squamous cell carcinomas, which are cancerous growths that begin in the at squamous cells, that form the inner lining of many parts of the head and neck. Invasive squamous cell carcinoma is a tumour that moves into deeper tissues and adenocarcinomas arise in the glandular cells, such as those found in the salivary glands. Alcohol and tobacco are the key etiological factors and their use increases the risk of developing Head and Neck Cancers.We at Nscri have a dedicated team of consultants for treating such kind of patients.
Uro Oncology
The Department of Uro-Oncology caters to the ever increasing volumes of Urological cancers (Kidney/Ureter/Bladder/Prostate/Testis/Penis/Adrenals) in West Bengal, as well as neighboring countries; with an aim to provide the latest, internationally equivalent, evidence based protocolized treatment.
Gynae Onco
The Gynaecologic Oncology service at NSCRI offers a comprehensive preventive, diagnostic, treatment and over all management for women with precancerous and cancerous gynaecological conditions, involving a multi disciplinary team. The experts at NSCRI in this team are dedicated towards providing evidence based management for cancers of female reproductive organs utilising modern and state of art technology . Our team has been providing these services for West Bengal and international patients over a decade while being actively involved in cancer research.
Book An Appointment